MLB All-Star rosters: Emerging talent reigns supreme
Rosters for Major League Baseball's 2013 All-Star Game include established stars like David Wright along with new blood like Matt Harvey, both of the host New York Mets.
You guessed it.
Bryce Harper was a clown for Halloween this year.
Well played, Harper. Well played.
It Was Indeed a Clown Play, Bro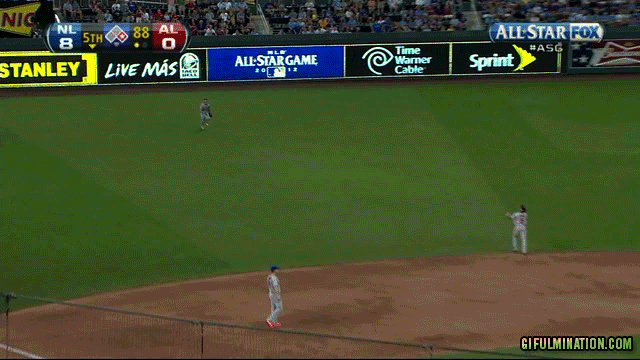 The baseball gods giveth, and the baseball gods taketh away.
Instead of witnessing what could been a Bash Brothers style, bombs away Home Run Derby this Monday between behemoths Giancarlo Stanton and Mark Trumbo — 6' 5", 250 lbs. and 6' 4" 230 lbs. respectively — baseball fans are left with seeing a leadoff type hitter in Andrew McCutchen filling in for the disabled Marlin.
McCutchen does have 16 homers this season, but I suspect that the 5' 10" 185 pound Pirates centerfielder puts on a significantly less impressive show in batting practice than his heftier counterparts.
Factor in the absence of 6' 6" 270 lb. Adam Dunn and 6' 4" 250 lb. David Ortiz and this year's MLB HR Derby can officially be scratched from Uncle Buddha's list of "Must-See TV."
Frankly, for my money, I would have preferred to see young Bryce Harper get a shot to compete instead of McCutchen. The 19-year-old Harper, just named on Saturday to the NL All-Star team as Stanton's replacement, made waves in these kinds of competitions throughout his years playing high school and JUCO baseball and I would have been willing to bet Harper was good for at least one spectacular 500 foot bomb. Oh well…
Don't ask 19-year-old Washington Nationals phenom Bryce Harper about whether he wants to go out and grab a beer after the game.