Pretty impressive video example of Jordan Cameron's athleticism.
Posting it because I think he breaks out of his funk this weekend and shows off versus the Jags, who rank 31st in the league against fantasy tight ends.
More of the T-shirt style jerseys.
As if I needed another reason to not watch NBA hoops.
It is with immense pride I present the first #GotEm Xavier McDaniel GIF…
Love me some X-Man.
Back in college at the University of South Carolina, I once shot around with Xavier and Ty Corbin. Although neither guy attended Carolina, they were doing some offseason training in their hometown of Columbia, SC. 
And he was hilarious in Singles.
Lawrence Taylor has a very valuable bit of advice for Lamar Odom.
Don't do it, Lamar. Seriously. Nobody knows better than LT.
Then again, maybe it's too late. Something has to be amiss with Odom. He did marry the fat, ugly Kardashian.
Fifty year old Michael Jordan still throwing it down.
Also, please note that he is also wearing a Charlotte Bobcats version of the Air Jordan I, the single most revolutionary shoe in the history of the world.
Next season, that shoe will be teal and purple because the Hornets will be back where they belong — in Charotte.
A Belated In Memoriam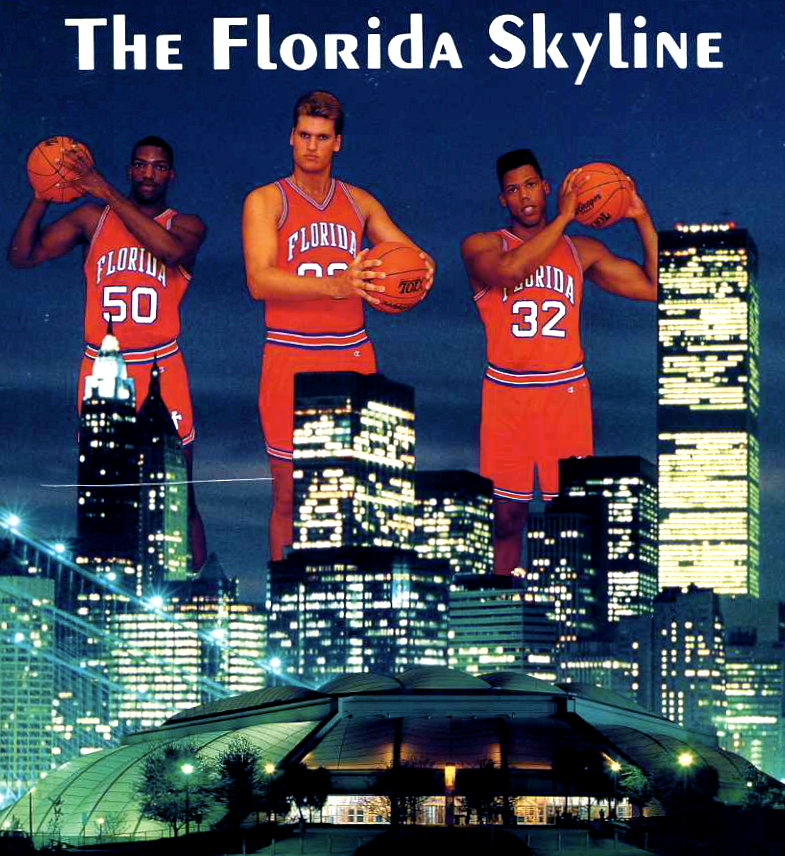 As I perused my Tumblr dashboard earlier tonight, I came across this awesomely 80's photo via FullMetalStarterJacket.
This pic got me reminiscing about how much I really used to dig watching Dwayne Schintzius play ball back in the day at Florida. Then, as I googled Schintzius, I found out some very saddening news.
Dwayne Schintzius passed away due to respiratory failure stemming from complications brought on by bone marrow cancer back in April earlier this year. He was only 43 years old.
I suppose I can understand how this news slipped through the cracks. Schintzius — despite playing parts of nine seasons in the NBA — was more or less a localized Florida hero. After all, he was born and raised in the Tampa area and went on to become a star center at UF. Schintzius also had one of the greatest mullets — he called it "The Lobster" — in the history of mankind and was so dedicated to his hairstyle that he twice sabotaged his basketball career in honor of the 'do.
First, he chose to leave the University of Florida for the NBA primarily because he refused to lose "The Lobster" per the orders of interim Gators coach Don DeVoe.
Later, Schintzius actually did trim his mullet at the behest of San Antonio Spurs general manager Bob Bass. However, the disgruntled seven-footer decided to keep the clippings from his haircut and mail them to Bass in an envelope. Not long after that, and certainly not surprisingly, Schintzius was dealt to the Sacramanto Kings for forward Antoine Carr.
So, as thankful as I was to see this photo of Dwayne Schintzius — along with fellow "Florida Skyliners" Dwayne Davis and Livingston Chatman — it has clearly stirred up a bevy of mixed emotions.
In spite of his hubrus and his hairdo, Schintzius was one helluva college basketball player.
At 7' 2" and 260 pounds, Schintzius was capable of dominating whenever the whim hit him. Unfortunately, his biggest flaw was that he lacked the motivation to capitalize on his abilities game in and game out. Throughout it all, he remains the all-time leader in blocked shots at Florida and — more than twenty years after his collegiate career ended — Dwayne Schintzius is the only player in SEC hoops history to amass more than 1,500 points, 800 rebounds, 250 assists and 250 blocks.
Now — six months after his passing — I say goodbye to a man who was a character off the basketball court and an All-American on it.
Rest in peace, Dwayne Schintzius…to you and "The Lobster."